We offer a range of solutions that can help you with the plant supply to your projects, I have listed some of these below . Our web page is designed for simplicity of use and is a useful source of information on plant species available and their habits.
Our current availability page is updated with available stock on a monthly basis we also attach current photos to selected stock each month.
Plant descriptions is where we give you the information on much of the stock we sell, once on the page you can select stock that you on which you require more information.
QUOTING
Pricing a project? We can provide a quote based on plants, pot size and delivery date that will give you all of the information you need for a tender or your own project. We will highlight possible issues and offer solutions before they become last minute problems We can also offer solutions for tight budgets as well.
ONE STOP SHOP
Once you place your order, it will be processed, problems resolved and stock will arrive on time - to specification Ė no last minute changes to cause problems.
Aspley Nursery is a licensed grower for a selected range of plants from Ozbreed, available plants will appear on our current list. More information on specific Ozbreed plants are available at www.ozbreed.com.au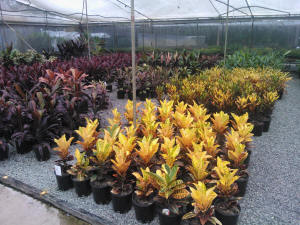 DELIVERY IN OUR OWN TRUCKS
We deliver in our own trucks so we control the delivery time and ensure that your stock is delivered on time and in good condition. All of our trucks are Pantecs with tuck away loaders so that delivery is quick and the plants are protected If it is outside our delivery area we use transport companies that we know will do a quality job based on prior performance.
QUALITY PRODUCT
Aspley Nursery has a reputation forged over 57 years for the supply of quality product to the landscape industry. Not only will the stock look good on delivery, you know that the horticultural practices employed by us will ensure that trees have proper root systems to avoid girdling, and that plants will be true to species. We were in the first group of wholesale nurseries in Australia to be awarded NIASA standard and since then we have achieved EcoHort.
CONTRACT GROWING WILL SAVE MONEY
The more time you can give us to grow your plants the better price we can offer as we have the time to grow your product especially for your project. If you are a builder or developer, we are happy to be involved with your project from the beginning. While your project is reaching fruition the trees and plants for the project are being grown and cared for in our nursery. When the stock is required we deliver to site in our trucks and you know that all problems have been resolved well before delivery and there will be no last minute problems.
PLANT SOURCING
Part of the service we offer is to provide your total project by Aspley Nursery. If you need your plants NOW and we donít have some items required in our 7 hectares of nursery we can source product from reputable suppliers at a nominal cost so that all you see is our truck arriving at your door with the plants you need.
These are some of the reasons for buying your planting needs from Aspley Nursery. when you call us it is also nice to know you will be dealing with a sales staff that is customer focused, knowledgeable and happy to make your project run smoothly.
Please give our sales staff a call to discuss how Aspley Nursery can help you with a better plant supply solution.